Sharps Disposal Service | Sharps Containers
Sharps containers provide a safe, "hands-free" way for medical facilities to immediately dispose of used needles. Medical Waste Disposal offers a complete line of sharps containers to meet your needs, including both single-use and reusable containers. We'll also pick up your filled containers and bring them to our waste treatment plant for safe and secure disposal. Sharps containers are available in sizes from 1 gallon to 17 gallons.
Pharmaceutical and Chemotherapy Waste Containers
We also carry many sizes and brands of containers designed for non-hazardous pharmaceutical waste, as well as containers for chemotherapy waste. All of our containers are color-coded to help your staff distinguish these containers from our other containers.
Pharmaceutical Waste Sharps Containers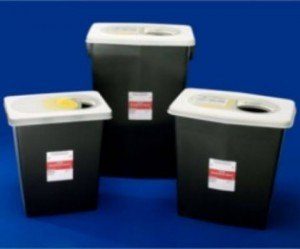 Chemotherapy Waste Sharps Containers
To place an order or to learn more about our Sharps Containers, please contact us.