Biohazard Containers, Boxes, and Bags
The majority of medical waste disposal companies charge extra fees for their reusable containers, boxes, and bags; Medical Waste Disposal provides them for free to our route service customers.
Containers
Specifically designed for the safe transport of medical waste from your facility to our autoclave disposal, our waste disposal containers come in four sizes; all which are fully compliant with state regulations and all federal OSHA requirements as well (see below)
Capacity: 17 Gallon
Size: 12" x 20" x 25.9"
Capacity: 31 Gallon
Size: 25" x 20" x 21.3"
Capacity: 43 Gallon
Size: 25" x 20" x 29.5"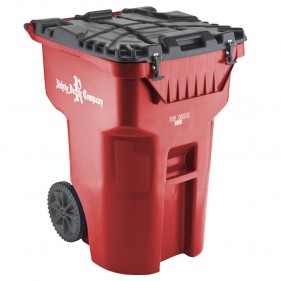 Capacity: 95 Gallon
Size: 33.8" x 28.5" x 44.2"
Boxes
We also carry numerous sizes and brands of containers designed for non-hazardous pharmaceutical waste, as well as containers for chemotherapy waste. All of our biohazard containers are color-coded to help your staff distinguish these containers from our other containers.
Red Bags
Why Our Bags Are Better Than Our Competitor's Bags
Our medical waste disposal bags (red bags) are better than the bags of our competition.We use "star-sealed" bags, while most of our competitors use "gusseted" bags because gusseted bags are less expensive, rather, "cheaper," than our star-sealed bags. Unfortunately, according to the manufacturer who distributes both bags, gusseted bags are ten times more likely to leak compared to our star-sealed bags. And if a bag leaks, infectious diseases can leak into your reusable containers and put your employees and patients at risk.
Simply put, our bags are bigger, stronger, and safer.